Kickstart Your Career Change Into Tech
The Stackwisr Job Mentoring Programme (JMP) is designed for graduates and professionals looking to break into the tech industry. It offers everything students need to thrive in their new careers, including exceptional mentoring and professional development support.
An Industry Mentoring Programme Created With You In Mind
Our mentoring and professional development programme may be your best career move yet.
LEARN AT YOUR OWN PACE
Receive certification in your own time, all thanks to our self - paced course content.
DEVELOP LIFELONG SKILLS
Maximise your learning by interacting with trainers, mentors, and other delegates.
PREPARE FOR THE INDUSTRY
Experience a typical day in your future job via real - world projects and assignments.
GO BEYOND LEARNING
Our ultimate goal is for you to receive a well - suited job offer in the tech industry.
GROW YOUR EMPLOYABILITY
Capitalise on your potential with our career resources and in -house recruitment service.
START EARNING MORE
Enjoy seeing your hard work pay off with new job roles, pay raises, and promotions.
Mentoring And Professional Development: What We Offer
For a career change into tech to succeed, you need to know more than industry acronyms and functions. The JMP provides mentoring and professional development support from the day you sign up to the moment you feel confident in your new role.
Exclusive VIP Webcast
Skyrocket your learning with extra content. To stay up-to-date throughout your career change into tech, the JMP team will host up to 20 hours of webcast sessions per month (worth £1000+). Explore our highly acclaimed VIP webcasts here.
Accelerated Self-Paced Learning
Discover the daily tasks of your future job. You will have the opportunity to work through the learning content (with an impressive 55 courses and 365 modules to choose from) at a time that suits you. Evenings, weekends…whenever!
Useful Career Resources
Get your foot in the door as a future leader. Our industry mentoring programme aims to help delegates break into the tech space, with tailored CV templates, interview Q&As, and leadership courses available to get you on the right track.
Hands-On Support
Receive all the answers to your questions. Are you struggling to grasp a particular module or aspect of your course? Has your project left you feeling confused? Whatever it is, our trainers guarantee to respond to queries in 24-48 hours.
Real-World Assignments
Apply your course learning to the industry. You will be tasked with job-specific business projects, completed under the guidance of project managers (or 'trainers') on a 1:1 basis and during weekly storm sessions with fellow delegates.
JMP Certification
Enter the industry with proof of skill. People are leaving their existing jobs to join the world of tech faster than ever. Make your job application stand out by displaying an industry mentoring programme certification on your CV.
Employer References
Impress future employers even more. You know the fundamentals of the job role and have used them in a real-world project context. The only task left is to ask your project manager to confirm your involvement in a reference letter.
Follow-Up Support
Get on-the-job support for 30 days. We understand that you may have some lingering questions – even after getting hired. As long as you still have a JMP membership, you can attend storm sessions and webcasts to find the answers.
VIP Webcasts: The Heart Of Our Industry Mentoring Programme
The JMP includes up to 20 hours of VIP webcasts per month, worth over £1000 in value. Delegates are welcome to attend as many webcasts as they deem necessary to bolster their learning and career preparation.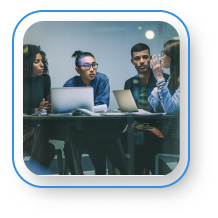 High-Performance Mastery Classes
Dive straight into various 'how-to' topics, including writing and deploying code, configuring a service on the cloud, setting up and running tools, and much more!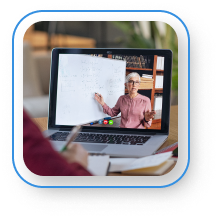 Immersive Acceleration Classes
Explore how to solve real-world projects, with the support of 3-5-hour-long demonstrations by specialist trainers, for an ultra-enhanced learning experience.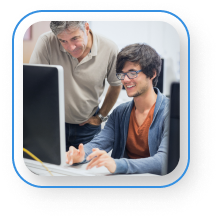 Exclusive Performance Webcast Series
The non-technical side of securing a tech role. Features CV and interview prep, explaining work experience, solving use cases, and negotiating a higher salary.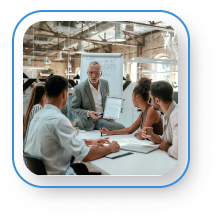 Executive VIP Booster Series
Meet successful experts from the likes of IBM and Microsoft, many being former Pairview delegates, and discover trends relating to your career change into tech.
Why Choose Us For Your Career Change Into Tech?
15+ years' experience in the educational tech space.
Knowledge of delegate and industry pain points.
Tech specialists on-hand to support learning.
Past recordings available to help with assignments.
Frequent webcasts and storm sessions to enrich learning.
Professional recruitment service to land job roles.
What They Think
I have attempted many routes in the past for a prosperous career, however, the breakthrough was yet to come. Starting and completing my programme with Pairview has inevitably changed my life for the better. My job opportunities after completion are great. The trainers were very helpful. The whole experience was truly fulfilling. A massive thanks to Pairview.
Dominic Dorant
Data Wrangler
The most important aspect was about the mentorship which was provided by experienced and knowledgeable analytics professionals at Pairview. In my Data Science programme, I had opportunities to work on various interesting business problems or use cases from telecommunication, banking, retail and many more sectors. Those gave me valuable work experience and an absolute edge in the job market.
Andre Mukendi
Data Scientist
Excellent training and hands-on practice with industry-relevant use cases to practise the skills. The projects are real-life client issues/problems which expose you to the world of data analysis, reporting and visualization and machine learning.
The tutors made sure everyone had mastered concepts before moving on to the next topic. Their guidance was excellent, and I also learned from other students who are at different stages of their project completion. I couldn't experience these through self-learning tools. That's why I was able to learn analytics skills in such a short span of time.
Tawseef Mushtaq
Data Science Consultant
How Our Industry Mentoring Programme Works
Decide on your career path and learn the various software.
Complete real-life business projects and boost your CV.
Use our recruitment service to secure your ideal job role!
Package Comparison
Learning and support with a career change into tech, now for just a fraction of the price!
Self-paced subscription  
Job mentoring programme 
Course access
Monthly
6-months
Self-paced learning
Real-world assignments
Webcasts
1. High-Performance Mastery Classes
Limited access
2. Exclusive Performance Webcast Series
3. Immersive Acceleration Classes
4. Executive VIP Booster Series
Recruitment storm sessions (x1 per week)
Career support and guidance
JMP certification
Follow-up support (30 days)
Book a Call
Book-call
Ready For Your Career Change Into Tech?
Sign up for our industry mentoring programme and land your dream role in no time. Self-paced learning, mentoring and professional development, career resources…everything you could possibly need!
Book-call